Ann Arbor Sessions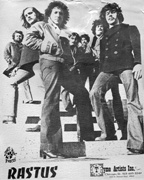 Rastus was formed in 1968 in Cleveland, Ohio. The first lead singer was Bocky (Robert J. DiPasquale) of Cleveland's Bocky and The Visions.

These demos were produced in Ann Arbor, Michigan by John Rhys utilizing the old farm house studios of the band SRC during July of 1968. They were recorded on a four-track Crown recorder utilizing a minimal amount of microphones and EQ. Mike Geraci, John Taylor and Vic Walkuski were in one room; Tony Corrao was by himself in another room; Don Nagy was also separated and Smokey was in the specifically designed drum room. Bocky sang live on most of these cuts and a minimal amount of over-dubbing was used.
On these cuts, you can hear how the band began formulating the "Rastus" sound.

The Band:
Mike (The Frist) Geraci: Baritone and tenor saxophones
Vic Walkuski: Alto and Tenor saxophones
Arthur Edward Appleton, Jr. (John Taylor): Trombone
Tony Corrao: Guitar
Don Nagy: Bass
Dave (Smokey) Smelko: Drums
Bocky: Lead Vocals
Tracks:
Your Guiding Light
Written exclusively for Rastus by John Rhys, this song was never released. The piano player was a guy from Ann Arbor whose name was never written down due to the laxity of the session. Perhaps someone can remember his name at which point we will enter it here.

Published by: Hollywood Allstar Music
Download Price: $0.75
Sailin' Easy
This song, written by Scott Richardson, Al Wilmot and Gary Quackenbush of the SRC was produced with a true sense of humor and features band manager, Angelo Crimi as the carnival barker at the end.

Published by: Big Casino Music
Download Price: $0.75
Walkin' In The Park
Written by G. Bond. As of this date, no one knows who G. Bond may be. If anyone has any idea, please contact John Rhys. This song became a staple of Rastus' shows. Bocky did an excellent rendition of this song during the Ann Arbor sessions.
Published by: Seven Music
Download Price: $0.75
Black Cat
A powerful drum solo by Smokey Smelko is the centerpiece of this song written by Brian Auger. We all worried about Smokey during these solos as he would play for up to 10 minutes solid without letting up the pace. Smokey lost weight every night and gained it back every day. What a performer!

Published by: Cotillion Music
Download Price: $0.75
Sinnin' For You
This song, suggested by friend Andy Klein, was culled from a group from England called The Keefe Hartley Band and written by Keefe Hartley, P. Dines, S. Hewitson and F. Finnegan. The tune also became a stalwart in the Rastus set collection and was heavily requested. The opening, "Ding Dong The Witch Is Dead" is totally a Rastus arrangement. Everybody gets into the act here.

Published by: Bleu Disque Inc. Ascap
Download Price: $0.75
I-75 Riff
Written by John Rhys with an amazing arrangement from Rastus, this song shows the beginnings of the real Jam Band era. The delicate solo at the beginning was the creative idea of Mike Geraci who handles the tenor sax solo with grace and aplomb.

Published by: Synergistic Music/New Road Music Ascap

Download Price: $0.75
El Congo Valiente'/Warm
The jazz piece, "El Congo Valiente" was written by famed jazz orchestrator, Johnny Williams. John Taylor came up with the idea of the connection of this masterful jazz piece with the ballad ("Warm") written by John Rhys. From the Ann Arbor sessions until the end, Rastus always connected the two songs.

"El Congo Valiente" published by: Benton Publishing Inc. ASCAP

"Warm" published by: Synergistic Music/New Road Music ASCAP
Download Price: $0.75
Be Kind To Your Web-Footed Friends
This traditional melody was re-interpreted by Rastus our last night in Ann Arbor during one hell-of-a-party. I remember the band marching around the studio, back and forth, having a great time. One of my favorite memories of that session.

John Rhys
Download Price: $0.75
Finlandia
This Homeric melody relates not only to the country Finland but to nearly everyone's high school graduation. The band will hound me until I die for putting this arrangement in this collection. This recording was also put down the night of the grand party. So excuse the band if it's a little "loose."

John Rhys
Download Price: $0.75